Chocolate types and their characteristics
Chocolate
is definitely one of the most popular sweets in the world. Worldwide yearly sales of chocolate reach 100 billion US Dollars as
chocolate
has
wide applications in many different industries.
Chocolate is often used as an ingredient in a variety of desserts and snacks, and natural chocolate is even being used in cosmetic products and spa therapies. Although it is not on the list of the healthiest foods, chocolate is healthy to a certain level when consumed in moderation.
This is especially true for dark chocolate. As we know, chocolate's main ingredient is cocoa and chocolate's health benefits come mainly from this ingredient.
Humanity has known cocoa since ancient times. Chocolate is made from the cocoa beans of the cacao tree (Latin name: Theobroma cacao). The cocoa beans grow in the fruit pods of the tree and are gathered when the fruit pods are ripe.
The first step in the process of chocolate making, is cocoa beans fermentation.  These beans are then baked and grounded in order to create cocoa liquor. The two main ingredients of every kind of chocolate are extracted from the cocoa liquor- cocoa mass and cocoa butter. The cocoa mass, a thick and smooth paste is made from the dry parts of the cocoa beans.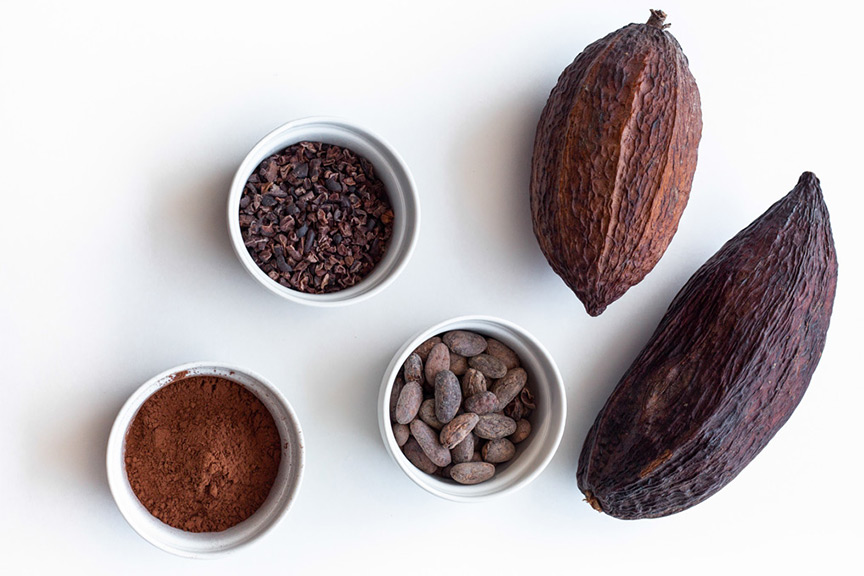 Cocoa butter is the fat content of the cocoa beans, product of the cocoa liquor mechanical pressing.
Chocolate is not only delicious, but it also offers several health benefits. It is a rich source of:

fibers
antioxidants
minerals
flavonoids
polyphenols
theobromine
caffeine
tryptophan
many other beneficial ingredients
The antioxidants rich content of the cocoa boosts brain function and regulates heart pressure. It has also been proven that it improves blood circulation. This is due to the fact that chocolate increases oxygen supply to the brain and therefore improves its function.
In fact, regular chocolate consumption can make us happy because after a person takes a bite from a chocolate bar, the body starts producing an additional amount of endorphins and this activates the brain's pleasure center.  It's a fact that cocoa has a higher polyphenols content than wine or green tea.
Additionally, regular chocolate consumption of cocoa-rich chocolate, decreases cholesterol levels and the risk of heart diseases, thus lowering chances of heart attacks, and it strengthens the immune system. Chocolate is really healthy for the heart. It opens the blood vessels and improves blood circulation thanks to an alkaloid, called theobromine in the delicious treat.
Chocolate consumption also prevents the development of different diseases such as atherosclerosis, heart diseases such as hypertensive heart disease and others.
If you are a fan of chocolate, in this article you will find interesting facts about chocolate. There are different types of chocolate. Each one has a different quality, price, taste, purpose and nutritional value.
The different structure, different solidity level, and different melting point of each type comes from the fact that each one is manufactured by a different method and compilation of ingredients. The common thing is the fact that all chocolate types are produced by natural cacao beans. These are two types:  mass-produced cocoa beans, at a cheap price, and selected ones, respectively more expensive.
The solid chocolate that is sold on the market is found in different shapes – bars, bonbons, chocolate eggs, bunny-shaped chocolates, couverture, chocolate with added nuts or dried fruits, with a filling, with added flavors ( coffee, cinnamon, vanilla, caramel and chili) in different proportions.
Let's check the different types of chocolate and their features, specific content and benefits.

Dark chocolate
Dark chocolate contains between 30% and 85% cocoa mass. Its cocoa content sometimes can reach 100%. The other main ingredients are cocoa butter, sugar, lecithin, vanilla.  It is characterized by a solid structure.
Dark chocolate can be used in baking too.
There are different varieties of dark chocolate: sweet dark chocolate, unsweetened dark chocolate (bitter chocolate), bittersweet chocolate.
The sweet dark chocolate has more than 35% of cocoa mass and less than 12% milk. The bittersweet chocolate (called also natural) has at least 35%-45% cocoa mass. Its other ingredients are cocoa butter, vanilla, lecithin and 1/3 sugar content and it is used in the preparation of different types of chocolate desserts and confectionery with natural chocolate. Unsweetened dark chocolate (also called baking chocolate) contains pure cocoa mass with a high cocoa fat content. This kind of chocolate is similar to natural chocolate, but it has a more bitter taste and less amount of sugar. The baking chocolate has a solid structure and strong, intense, aroma. It is considered to be the purest chocolate type and it is often used in confectionery.
Milk chocolate 
The first milk chocolate was created in 1875 by Daniel Peter in Switzerland, using the invented by Henri Nestle, condensed milk. Milk chocolate's cocoa mass content is varying in the different countries all over the world. For example, in the USA Milk chocolate has to have at least 10% and it can go up to 20% cocoa solids. In the European Union and UK cocoa solids should be minimum 30%, in Japan 21% cocoa content and in Canada minimum 25% cocoa solids and no less than 15% cocoa mass.
Milk content is over 12% and there is also sugar in it.
Milk chocolate has more solid structure than white chocolate and it is softer than bitter chocolate. It is used in confectionery too. According to European regulations the milk solids content in the milk chocolate shouldn't be less than 14%.
White chocolate
White chocolate doesn't contain cocoa mass, unlike the other chocolate types. This type of chocolate is manufactured on the basis of cocoa butter only. In some countries, white chocolate isn't considered to be a chocolate.
White chocolate contains around 20% cocoa butter, 55% or more sugar, 14% cow milk or milk powder, lecithin and vanilla.  It is characterized by a mild and pleasant taste.
White chocolate is used in making different desserts, cookies  and pastry decorations because its pales, ivory color contrasts with the the brown one of the milk and dark chocolate. You can find white chocolate in a lot of different recipes for chocolate mousse, panna cotta, biscotti, cakes and etc.
Aerated chocolate
Aero chocolate is an invented in 1947. Rowntree poured air in the liquid cocoa mass, then cooled it and the result is bubbles in the chocolate. Nowadays you can find aerated milk chocolate, aerated dark chocolate and of course aerated white chocolate.
Ruby chocolate
The latest innovation on the chocolate scene is called "ruby chocolate". Patented by Barry-Callebaut in 2015, it was introduced in 2017.  Even the production process is a trade secret, the industry specialist speculate that it probably is produced by nonfermented cocoa beans of Brazil Lavados.
The market launch of the ruby chocolate into industrial products was in the Kit kat Ruby bar on 19th of January 2018 in Japan.
Cocoa powder
Cocoa powder is a chocolate product produced during the process of chocolate liquor extrusion. This is done in order to separate cocoa butter from the mixture.  The end product is with a fine powdered consistency, having a mild and subtly bitter taste.
Another characteristic of the cocoa powder is that it is easy dissolved in liquids. Cocoa powder has wide applications in baking since it doesn't react with sodium hydrogen carbonate.
What is couverture?
All chocolates with a cocoa mass higher than 70% are categorized as couverture. In some cases, cocoa mass content can be higher. The total fat content in couverture is between 30% and 40%.
This type of chocolate has a more solid structure than other types of chocolate and it also has a higher price. When heated, couverture melts and it is characterized by a smooth consistency.
People who suffer from gluten intolerance can find gluten-free chocolate products at healthy food shops.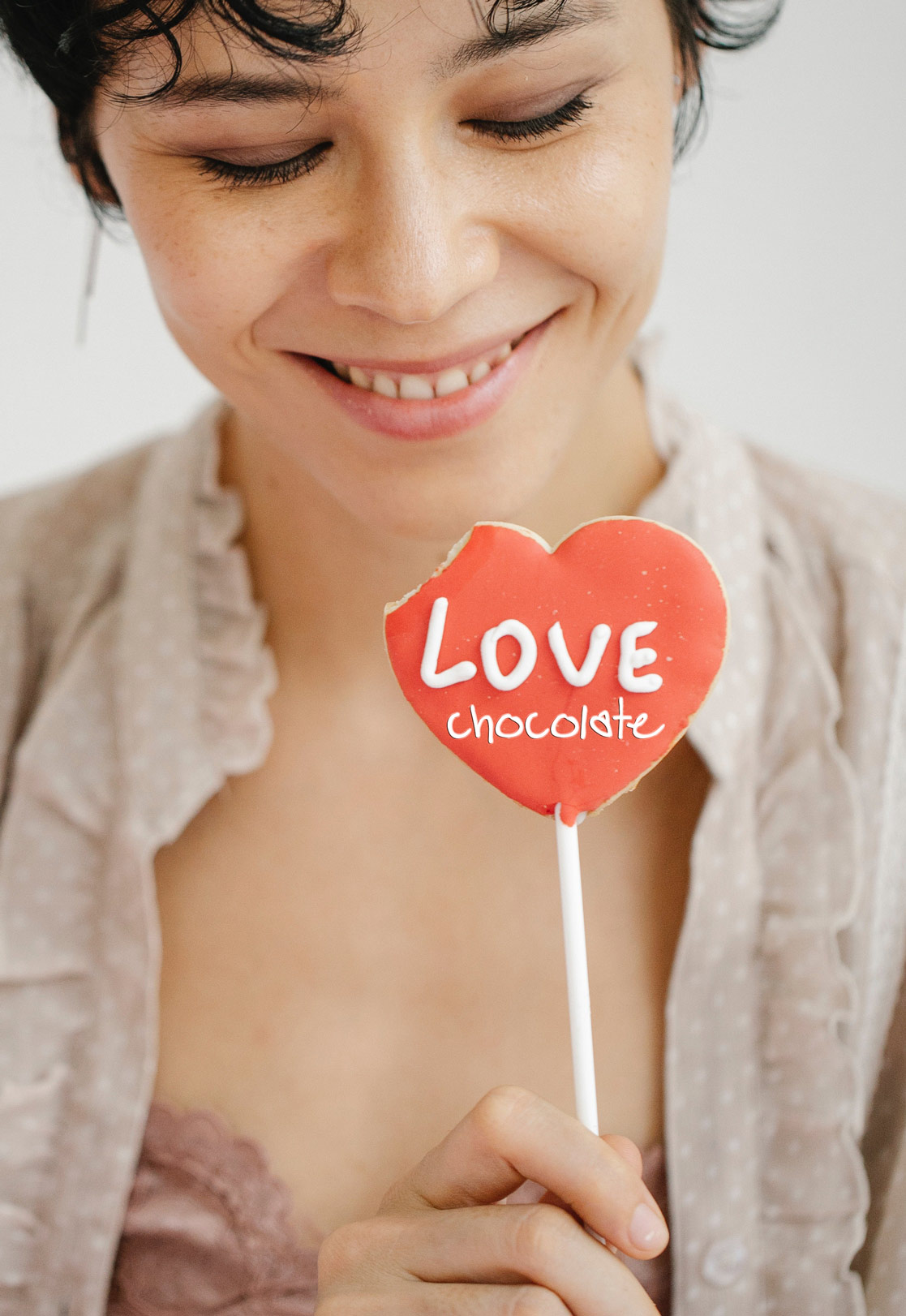 Chocolate addict and confectionery freak! Likes to try new chocolate products, branded sweets and confectioneries, as well as some worth-to-taste snacks and dips.
Part of Svila Trading Ltd. team